Blog
Bathroom Renovation Ideas to Create an At-Home Spa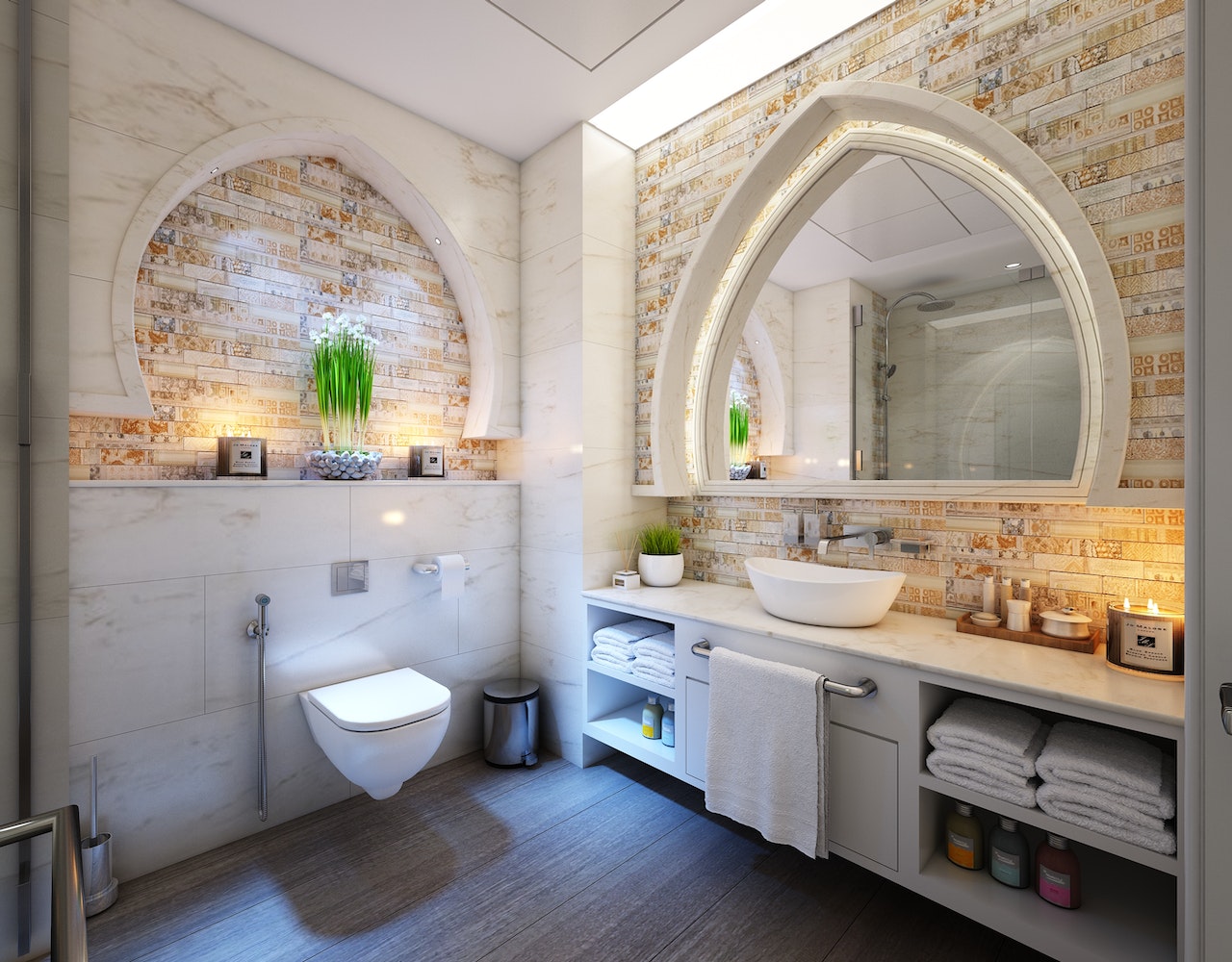 Imagine ending every exhausting workday with a little spa retreat. It seems like the best dream ever, right? The good news is - you don't have to imagine it anymore! We can make it a reality together. In order to help you get the very best treatment (that you deserve), we decided to show you some of the best bathroom renovation ideas to create an at-home spa.
Good lighting is half of the job done
Home spa lighting is crucial. For instance, although bright or fluorescent lights are ideal for tasks like applying cosmetics and shaving, they might be too harsh for other purposes. Lights with a warmer, gold color temperature are relaxing and, therefore, perfect for bringing that spa-like atmosphere. The only downside is that they may not always give enough light. But there's a solution for that too.
Installing both lamps and overhead lighting, or going with bathroom lighting that can be dimmed, will allow you to enjoy the best of both worlds. The versatility of smart bulbs makes them an excellent choice. They can be as bright as fluorescent lights if necessary and come in a wide range of colors. However, combining them together and picking the right ones for your bathroom can be tricky. So, make sure to get in touch with professionals who know exactly what to do.
Good lighting can make all other bathroom renovation ideas create an at-home spa pop.
Achieve elegance
The major difference between an ordinary bathroom and a spa-worthy one is the factor of elegance. Add bath items that go in with the spa's color scheme to complete the feel. You may decant your favorite hand soap, shampoo, and conditioner into decorative bottles if they don't come in spa-worthy packaging. Sponge balls, cotton rounds, and other little objects are easily stored in transparent glass jars. Put your cosmetics and other amenities on a tray and place it next to the sink to make your vanity seem more elegant.
Don't let clutter get in the way of your perfect spa day
It's easy to let toiletries and other necessities take over a bathroom, particularly one of average or smaller size. Hide the contents of drawers and shelves to make your refuge seem larger. Containers made of glass, wood, or stone are good options because of their long-lasting durability and their minimalistic designs. If you have many things in your bathroom that don't fit the new design, the space may seem more cluttered.
In that case, you can put the excess in a storage facility. Just make sure to pack your belongings the right way. If you don't know exactly how to do that, make sure that you get help from a trusted team of movers who offer packing services in Florida too.
Build a green wall
You may put up a live plant wall in your bathroom, and it will look great. Securing closed planters to a vertical structure makes watering easy and reduces the risk of leaks, so that you may forego elaborate irrigation systems. The sleek ladder shape will keep condensation at bay. Verify its strength or fasten it to the wall studs if necessary. Periodically, you should check and clean the space behind your plants.
For an even less complicated indoor jungle, group potted and hanging plants together. Plants like pothos, ferns, and bromeliads that thrive in low light or high humidity are ideal for the bathroom. Any of these moves can be a perfect idea, but make sure that you have the right flooring to go with it, even before you start remodeling.
Adding greenery to your bathroom can give you just the right amount of relaxation.
Play with soothing colors
For a soothing ambiance, go with subdued, pastel tones. If you want your bathroom to be a relaxing space, you should stay away from high-contrast color schemes like black and white or blue and orange. The soothing color scheme of seafoam green and sky blue with warmer neutrals is perfect for a high-end spa. Make sure to stick to a theme when doing this kind of remodel and ask professional designers when in doubt so you won't have any regrets once the final product comes in.
Aromatherapy and candles are crucial additions to bathroom renovation ideas to create an at-home spa
What is the main thing that you want to achieve with your little DIY spa? Calming your senses after a long day of overstimulation. Scented candles provide not only a tranquil ambiance via their gentle, ambient light but also a soothing one through the perfume they emit. Whether you want to use a candle or an essential oil diffuser, choose a perfume with calming properties, such as:
Find a place to install speakers and enjoy the soothing music
This is ideal for unwinding to soothing sounds of nature or meditative music. Ensure you shop for a speaker that can be safely installed in a damp environment. Most Bluetooth speakers are waterproof, and many can produce understated, earthy tones that won't disrupt the tranquil atmosphere of your home.
Finish up with a soft rug
Put thick rugs on your bathroom floor to make it seem more like a spa. Rugs are a great way to personalize a space, increase the feeling of warmth, and avoid the discomfort of bare feet on cold tile floors on a chilly morning. For elderly persons, a good compromise is to find an elegant non-slip mat and complete the look. Also, keep in mind that selecting a mat constructed from a quick-drying substance may help avoid the growth of mold and germs in the space immediately outside the bathroom's wet zones.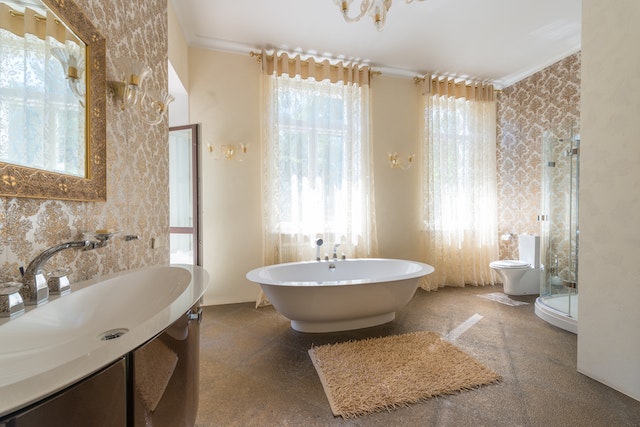 A cute little fluffy rug can give your bathroom more dimension. Plus, your feet will love it!
Final thoughts
Giving yourself the opportunity to have your own oasis of peace and relaxation is something we strongly encourage you to do. You deserve it, so make sure to try out these bathroom renovation ideas to create an at-home spa. Even better, make your own twist and version of them and enjoy your ''me time'' to the fullest every day.
Photos used:
---
‹ Back