Blog
7 Senior-Friendly Bathroom Renovation Tips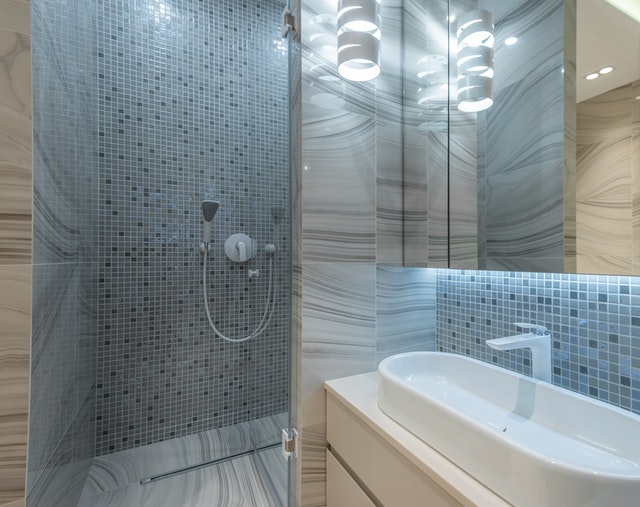 As people age, using the bathroom effectively and safely tends to get harder. This is due to cluttered floors, slippery surfaces and an absence of support bars in the bathroom. All of this combined means that bathrooms are a real fall hazard, even more so for the elderly, who struggle with reduced coordination and failing strength and eyesight. Fortunately, however, there are renovations which can be done to make the bathroom much safer for them. To his end, we have put together a list of 7 senior-friendly bathroom renovation tips, which will hopefully help you make your bathroom much safer overall.
1. Clear the clutter
There are a ton of items we tend to keep on bathroom shelves—toothpaste, lotions, medicine and shower gels, to name a few. And while this usually isn't a problem, the more items you have on the shelves, the higher the chance of something getting knocked to the floor. Needless to say, if this happens to a senior, they are at risk of tripping on the item, and they would have to bend over and pick it up anyway. This isn't easy for someone battling the loss of mobility and stiffness. So, while you consider hidden home renovation costs, you can clear out the shelves to make the bathroom a little bit safer.
The less clutter on the bathroom shelves during a senior-friendly bathroom renovation, the better.
2. Install a walk-in tub
Walk-in tubs are a much safer option, as the elderly don't have to struggle to get into one. A walk-in tub is different from a regular one in that it has doors which you need to open before coming in. This removes the need to lift your legs entirely, reducing the risk of slipping and overall being much safer. Some models even have inside-the-tube handrails, seating, and adjustable bubble jets. The only caveat is that you shouldn't use the door to support yourself, as they aren't meant to carry weight. Keep in mind, however, that walk-in tubs are a very expensive upgrade. So, if you're considering moving cross-country into a new home, for example, in Florida, try to find a home which already has one. And moving is a safe and stress-free process if you hire the right movers.
3. Add toilet safety rails
Toilet safety rails are, simply put, rails incorporated in or around a toilet which are meant to increase support when using the toilet. When it comes to senior-friendly bathroom renovation, this should be a top priority. While they come in a variety of types and styles, there are two main categories: free-standing frames and frames which attach to a toilet. Whichever you choose, they both serve the same purpose: making the toilet safer for the elderly. And while you're considering this, you should also consider some upgrades to make a humdrum house a happy home. Safety is important, but so is helping seniors feel at home in their house.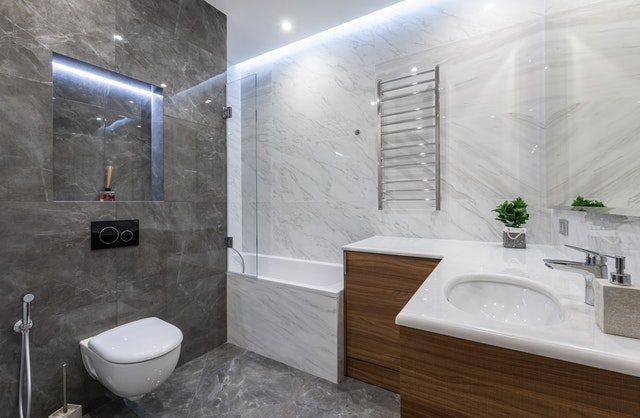 Adding toilet safety rails will make the bathroom much safer for seniors.
4. Install a shower bench
The ability to stay stable on our feet is something most of us take for granted. As age takes its toll, however, this is something seniors struggle with. Needless to say, falling in the shower is very dangerous, which is why shower benches were made. Shower benches allow you to stay safe and stable while you shower and almost completely eliminate the risk of falling. With one of these installed, seniors can sit and rest comfortably while in the shower. Certain models come with suction cups for extra stability and adjustable height for convenience.
5. Store all items within reach
Next on the list of senior-friendly bathroom renovation tips it's another very simple one. Make sure all necessary items are within reach. Because they're not very mobile, seniors should be able to access all of their toiletries with ease. They shouldn't have to bend over or stretch in order to grab something. An easy way to make sure everything stays within reach is to install a shower caddy. A very easy renovation, the best option are the ones which can be mounted on the wall. Additionally, installing dispensers on the wall of the shower is also a good idea. However, experts from verifiedmovers.com note that these items aren't easy to move if you plan on moving out at some point.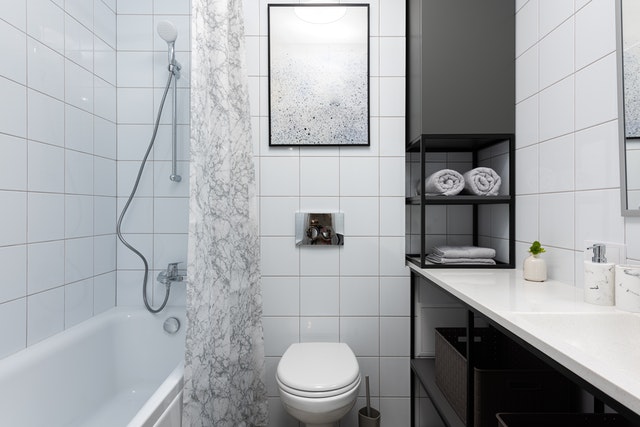 Keeping toiletries within reach makes a big difference for seniors.
6. Add non-slip mats
Getting in and out of a shower is one of the main reasons why bathroom accidents happen. Stepping onto a slippery area, prone to both water and soap, is a recipe for disaster with seniors. This is where non-slip mats are extremely helpful. They're rather inexpensive, so you can easily cover every area which needs to be safe. Namely, the very entrance to the bathroom, right beside the tub and right in front of the toilet. Alternatively, if you're planning on remodeling a bathroom, you should consider slip-resistant tiles. They can be installed in the shower area or the entire bathroom. It's up to personal preference, although covering the entire bathroom is safer. However, keep in mind some tips for avoiding regrets with your bathroom remodel if you plan on doing this.
7. Lighting
It's a common belief that overhead lighting is the best option for a bathroom. For seniors, however, this couldn't be farther from the truth. Overhead lighting creates a lot of shadows, and for someone with failing eyesight, this can cause all sorts of issues. Adding multiple lights around the bathroom so that everything is equally lit up is the better call here.
Seven senior-friendly bathroom renovation tips – closing thoughts
Seniors tend to have some special needs, especially as age continues to advance. Making sure that they are safe in the bathroom is one of these needs, and you should make sure all of the requirements are met. After all, accidents are all too common, so doing your best to reduce risk by any amount is a step in the right direction. And while some of the things on this list are definitely on the expensive side, safety is always worth the price. We hope this list of 7 senior-friendly bathroom renovation tips helps you make the bathroom a safer space for the seniors in your life.
---
Photos used:
---
‹ Back