Blog
Well Grounded Logic Says DON'T Raise the Old Home!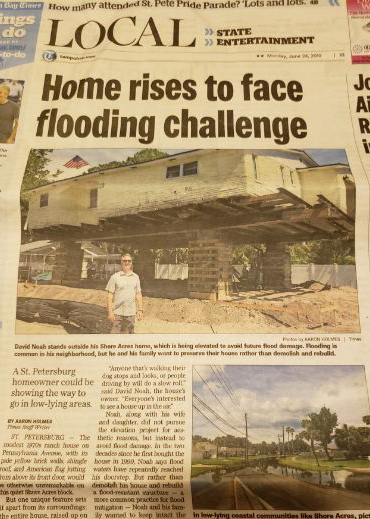 Like most folks, I was struck by the photo of the heavy construction in this article. As I read the article, I realized how terribly misguided this particular effort is in most cases. It is certainly a misguided effort in this case.
The article quoted $225,000 of work to complete this project and I suspect the final cost will be somewhat higher. The article also made clear that a new home would be considerably more money - this is true, but SO WHAT?
This family will end up with a home that is "architecturally odd," at the least. Assuming this project goes smoothly (and that is a very big assumption) the home will have very old wiring, very old plumbing, very old air conditioning, non-impact windows, a roof that is on the back 9, truss attachments that are likely woefully short of the new codes and everything else in the home will be significantly dated as well. So is the 50% savings worth it? I say NO WAY!
While the act of raising the home addresses the flooding issue, it does nothing to address wind mitigation and a home that is an additional 14' in the air will be subject to greater exposure and higher wind speeds!!! This folly is at least partially paid for with government grant dollars - very wrong!
I mentioned above "Assuming this project goes smoothly."
Homes that are built on grade like to stay there! When moved, the floors tend to crack a bit, the walls tend crack a bit, the AC condenser that used to sit on a pad on the ground must now be elevated on some sort of stand, the electric service will need to be changed and the new service will almost certainly require arc-fault breakers which when put on old wiring can be VERY problematical, to say the least. I suspect these folks will have a minimum of an additional $50,000 in unbudgeted issues.
The smarter way to do what they are trying to accomplish is to augment the existing 1st floor as structurally required (underpinning load bearing points in the foundation and adding filled cells and piers, where needed) and make it a GARAGE with interior stairs up to the new living level BUILT ON TOP OF THE OLD HOME. This protocol leaves intact the utility services to the home (sewer, water, power, cable, gas), uses most of the existing floor slab and walls and if pressed, you could even save the cabinets; and yields a NEW HOME built to code for what is net-net, not that much more money!!!
This is far smarter and a much better use of funds. The result yields an asset that is actually worth owning.
If your home is in a flood-prone area and you want to explore a SMARTER alternative, give Rose Building Contractors a call at 727-596-2390.
---
‹ Back