Blog
Remodeling Tips to Prepare Your Inherited House for Sale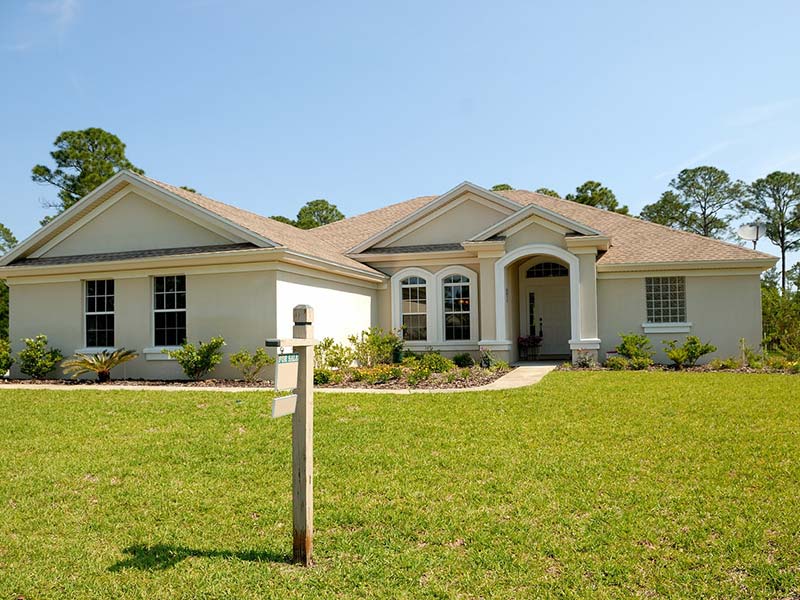 The first rule of selling - The longer it stays on the market, the less it sells for. The second rule - A "fixer-upper" is no one's first choice. Therefore, you want to make sure yours sells fast and for as close to the asking price as possible. Still, making that happen is only possible if you prepare your inherited house for sale through some good old home remodeling. Let's see how you can do that most effectively and painlessly.
Is it actually worth remodeling to prepare your inherited house for sale?
Ah, yes – the crucial question! After all, remodeling a house is a grand undertaking. So, we'll put your mind at ease right away. The definitive answer is a resounding YES and for more reasons than one.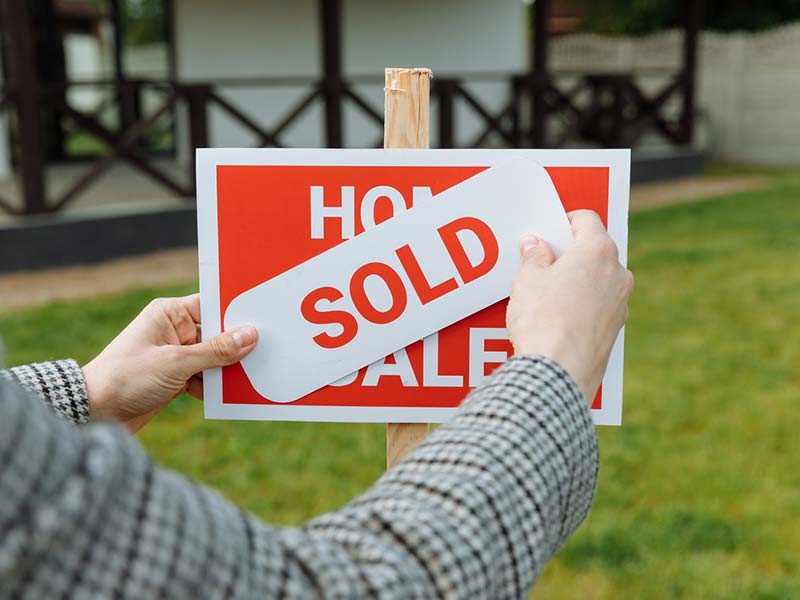 Remodeling to prepare your inherited house for sale is always the right choice
Pre-sale remodels aren't as resource-intensive as you may think
Fixing up a house before selling seems like a capital project. However, the truth is – it's not. Yes, it will take time, energy, and money to do so. But, the return on investment will make it more than worth it, even more so if you hire Florida home remodeling specialists with ample experience.
Homebuyers do not want to remodel a home they just bought
The main reason is the same as previously mentioned. Homebuyers think it's too expensive and time and energy-intensive. Also, no one loves making alternative living arrangements while their house is undergoing renovation. In other words, buyers want a home that's ready for them to move into.
Still, moving is all but easy. Nowadays, you have specialists who can handle everything from packing and transportation to storage. Furthermore, the majority of reputable movers, like those at Big Man's Moving Company, for instance, advise their clients to start preparing for relocation the moment they find out it's happening.
Recently remodeled homes sell much faster
This may be the most important reason of all. Even in today's market, when homes sell by a bunch, it's still a process that can take an excessive amount of time. And even some minor remodels can help decrease this period significantly. That's why the home you inherited must tickle their imagination and grab their attention right from the get-go.
So, it's all too easy to see how remodeling to prepare your inherited house for sale is a stellar idea. And, now, let's see how to best approach the whole ordeal to reap the most rewards.
A bit of refreshing does wonders when selling a house
A fresh coat of paint is one of the cheapest yet most effective investments. As such, this should be one of your priorities. Still, there's one crucial rule to follow here: Go neutral.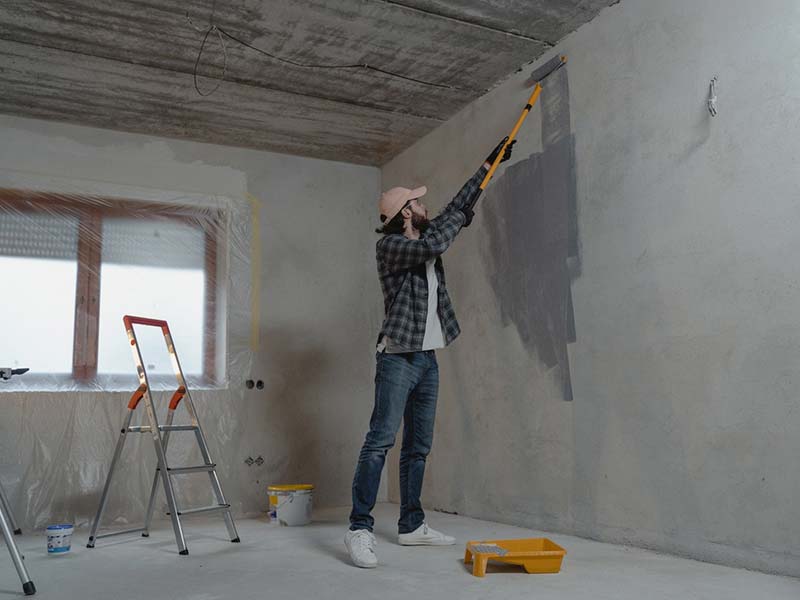 You can't go wrong with neutral colors
Yes, the house may look amazing with eye-piercing orange detail or screaming red accents – to you. But, most buyers are deterred by these bright, invasive colors. So, to attract the most attention, and make them crave your inherited home, best opt for grey, white, beige, greige, and blue hues.
First impressions matter
Next order of business: make sure buyers fall in love with your old home the moment they first lay eyes upon it. How do you do that? Simple – by upping the curb appeal. The front of the house should look impeccable, right from the get-go. Therefore, focus on:
Accents: Choose a color scheme that will blend well, fit into the landscaping and neighborhood, yet remain eye-catching and unique;
Front door and windows: Although we take them for granted, they have a specific "psychological effect" on potential buyers;
Surroundings: Although not an immediate priority, landscaping can give your house that much-needed "oomph" that makes the difference between the "wow" and "meh". The same goes for any home additions, such as garages, gazebos, etc.
The Bathroom
If there's a part of the house that will help you seal the deal, it's the bathroom. As an essential and irreplaceable part of the house, it's always at the very top of the buyers' priority list. As such, you should make sure it's:
Functional, from the moment a buyer moves in;
Presentable, but not excessive.
So, you want to do some minor bathroom remodeling without going out of your way or breaking the bank. Some recaulking, replacing vanities and showerheads, and a fresh coat of paint will more than do the trick.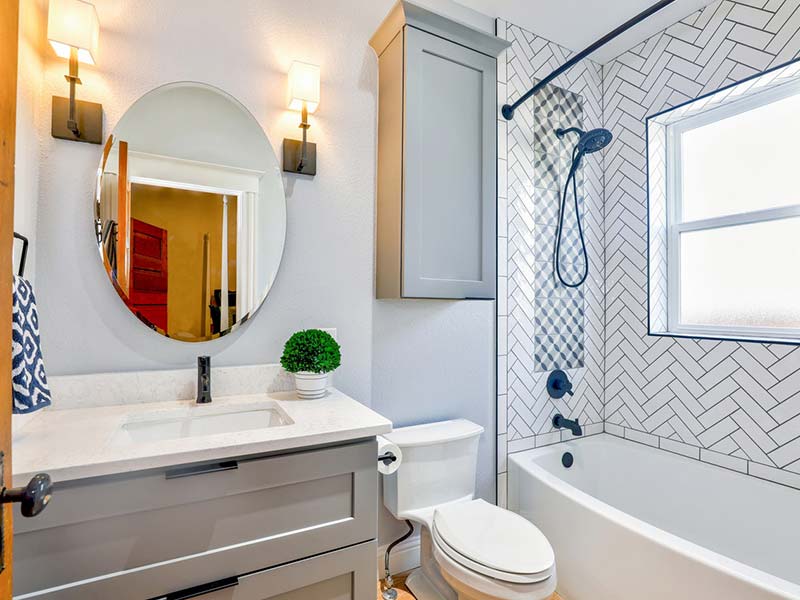 A functional and presentable bathroom can be the selling point
Energy efficiency is all the rage today
An energy-efficient home lowers utility bills and tax returns while increasing the resale value. However, it's also a hefty investment. The so-called "green" insulation is considered a major remodeling project, and it's not cheap. The same is true for green appliances.
Flooring can be a crucial selling point
An updated floor doesn't only give your house a much-needed edge when selling. It also massively increases the value! If the house already has hardwood floors – rejoice! In this case, all it takes is a nice refinish, and you're all set.
However, the flooring may be worn out beyond repair/refinish in some cases. In this case, you have two options:
Replace it with new hardwood flooring.
Replace it with new carpeting or vinyl floors.
Declutter + depersonalize = profit!
With major work out of the way, it's time to add finishing touches to your inherited home. And the best way to do that is to declutter and depersonalize.
Photos, decor, furniture – everything that defined the previous resident must disappear from the house. Of course, you don't have to trash it. There are always options to store the furniture and baubles until you figure out what to do with them. Either way, proper preparation is important to preserve the integrity of these belongings.
Bonus Tip: Turn to the pros to gain the most
A quality home remodel can turn even the most decrepit house into actual eye candy. However, that requires a lot of know-how. So, we leave you with the last piece of advice. Let reputable pros remodel and prepare your inherited house for sale. Although it won't be your house for long, their expertise will ensure the best outcome.
---
Photos used:
https://www.pexels.com/photo/white-and-brown-concrete-bungalow-under-clear-blue-sky-210617/
https://www.pexels.com/photo/shallow-focus-photo-of-a-realtor-posting-a-sold-sticker-8470803/
https://www.pexels.com/photo/man-painting-the-wall-6474471/
https://www.pexels.com/photo/oval-mirror-near-toilet-bowl-1910472/
---
‹ Back