Blog
Looking to Sell Your Home in Record Time? Tackle These Projects Before You List It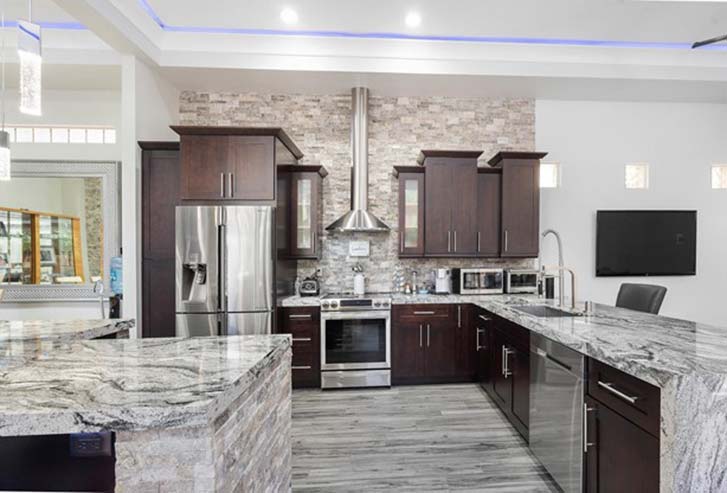 Image via Unsplash
According to Kiplinger, homes with separate laundry rooms, energy-efficient appliances, and great outdoor lighting are most desirable among today's homebuyers. In fact, approximately 91 percent of buyers look for homes with laundry rooms, while 89 percent are more likely to buy a home with energy-efficient appliances such as dishwashers and washing machines. About 85 percent of buyers look for great outdoor lighting that illuminates the home and lawn and increases a home's safety and security.
With this information in mind, it may be wise to make these types of updates to your home and yard if you're looking to sell your house in record time.
Install a Laundry Room
If your home doesn't feature a finished laundry room that's separate from all other living areas, one of the best things you can do before listing your home is installing a laundry room that gives buyers a private space for washing, drying, folding, and ironing their clothes. While the location of your new laundry area will depend on several factors, a basement and hallway closet are two popular locations for laundry rooms.
Purchase Energy-Efficient Appliances
In addition to installing a laundry room in your home, replacing your old appliances with energy-efficient models will put your home well ahead of the competition. Not only can energy-efficient appliances help you to reduce your utility expenses by as much as $400 per year, but these models are better for the environment as well. Plus, you may even qualify for rebates or special offers on select appliances when you buy ENERGY STAR-certified products.
Update Your Exterior Lighting
As you get ready to sell your home, you'll improve your home's security and entice potential buyers if you use spotlights, pendant lights, and walkway lights to illuminate your home, yard, sidewalk, and trees. Not only does great exterior lighting boost curb appeal—especially at night—but it also gives your home a warm and inviting look that all buyers love.
Invest in Eye-Catching Countertops and Sinks
When selling a home, high-traffic areas such as the kitchen and bathrooms can easily lure buyers in or push them away. For instance, some of the most sought after bathroom features among buyers include double sinks, granite vanities, and master bathrooms with built-in linen closets for added storage. However, the types of updates you make should depend largely on the value of your home and the other homes in your neighborhood.
As for kitchens, HGTV notes that some of the hottest trends in countertops include granite, limestone, marble, quartz and solid surface materials. Marble and granite countertops are typically the most expensive options, while solid surface, laminate, and tile are the cheapest. For mid-range budgets, however, quartz countertops are an excellent upgrade to any kitchen or bathroom—especially if you're looking for a durable, lower-maintenance alternative to granite.
Track Your Improvements
When you're making updates to your home, it's a good idea to track these upgrades so you can show potential buyers the investments you've made in your home. The easiest way to share these records with home buyers is to keep all these documents in one PDF file. A merge PDF tool allows you to combine and order files into one document which you can email to prospective buyers or your real estate agent.
Sell Your Home on a Budget
If you can't afford to make each of these upgrades before listing your home, HomeLight recommends tackling a few smaller projects instead. In the kitchen, for instance, painting your cabinets white and installing a deep double sink will give the space an updated, modernized look, while new fixtures in the bathrooms will appeal to buyers even if you can't afford the cost of a full bathroom remodel. These affordable changes may seem minor, but they'll make a big difference when it comes time to listing your home and selling it in record time.
Look to Rose Building Contractors for all your custom home building, renovation, and repair needs. Call 727-596-2390 to schedule an appointment.
---
‹ Back